2 months ago we wrote
, "Let's be honest...you've never, ever had a Computer Information Technology teacher rock a skirt this well."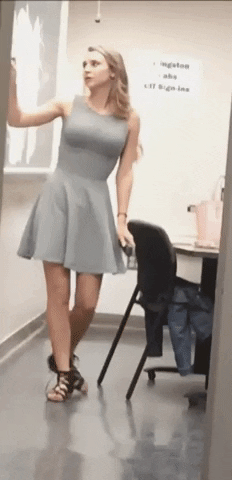 Yeah, well - no one has yet identified her but Oksana Neveselaya, a student, has been misidentified as the woman in the video above and? She's
now amassed 500k Instagram followers
because of it.
During an interview with Sputnik, Oksana explained that she'd only graduated from high school last year and is still considering her career and education options.
According to her
, she realized that something was amiss when the number of people following her on Instagram suddenly jumped up from 5,000 to 10,000 while she was on vacation. "I didn't understand what was going on. People started coming up to me to take photos together, then I started receiving private messages with these screenshots. Then they started leaving comments like "teacher" on my photos. I kept insisting that I'm not a teacher. Then they found that video (not mine) and started adding it to such posts. I kept denying that it was me, but no-one cared," she said.
So...the search for the actual teacher continues...back at it.
Please follow us on Twitter for exclusive stories, Like us on Facebook, Or return home for award winning writing.
Tweet